Half Baked Beans, a 6-year-old publishing house, was founded to help aspiring writers to turn their raw manuscript into a full-fledged published book. With over 100 published books across all genres, the publishing house launched a vertical for marketing and branding division which is named as Better Books. From publishing 60-minute micro books to proper novels and ebooks, Half Baked Beans has come a long way supporting writers fulfil their dreams of becoming a proclaimed author.
Half Baked Beans is a new-gen publishing house which not only publishes intriguing books but also provides marketing services to authors and poets. It renders a digital platform to the writers who want to seize a motley of opportunities to enhance their literary career. The idea is to encourage budding scribblers to explore their craft of writing and get their works appreciated by readers from all over the terrain.
Margaret Atwood said "A word after a word after a word is power," and we strongly believe in it as there are a million stories and a thousand emotions brewing in people's hearts and minds that need to be etched for others to absorb. Hence, we run the following initiatives to realise our vision.
In the last few years, book marketing has evolved manifold which demands an integrated approach to promote the book with huge efforts, constant engagement and execution of innovative marketing strategies. It has been 4 years since Half Baked Beans have launched the book marketing division and the progress marks that we have curated more than 50 book marketing projects.  In the age of digital media publicity, promoting a book over social platforms has become necessary where we focus on marketing our published books through Better Books handle, acknowledging authors and the release of their upcoming books.

Amid the situation of working from homes, we organised a few enlightening workshops for our audience to help them learn and grip on productive online tutelage. Our eminent tutors and speakers held sessions on 'The Basic Of Poetry Writing','Prose Poetry Workshop', 'Free Verse Poetry Workshop', 'Novel Writing Workshop', 'Basics of Blogging', 'How To Monetize Your Social Media' and others that are yet to be scheduled. The intention is to impart month-long learning on a selective matter in hand.
Half Baked Beans equips mentorship programmes in order to guide and tutor maturing writers to learn know-hows of the publishing industry. Co-Author Project is an initiative to guide amateur writers through the writing process of a novel in a team of two, profusing their ideas and research to ultimately publishing everything into an end book.
Time and time again, we arrange contests and challenges on different genres and writing styles to persuade writers to attempt and showcase their skills. A Poetry Challenge was held to challenge the poets to compose a poem in a given number of lines in order to discover their creativity. Micro-Fiction Contest prompted them to try their hands on horror stories so that they could try a varied genre. Similarly, we had a Story Time Contest for children to give them a chance to get their writings featured with us. Our effort to line up these contests is only to inspire potential writers to arouse their craft towards becoming a wordsmith.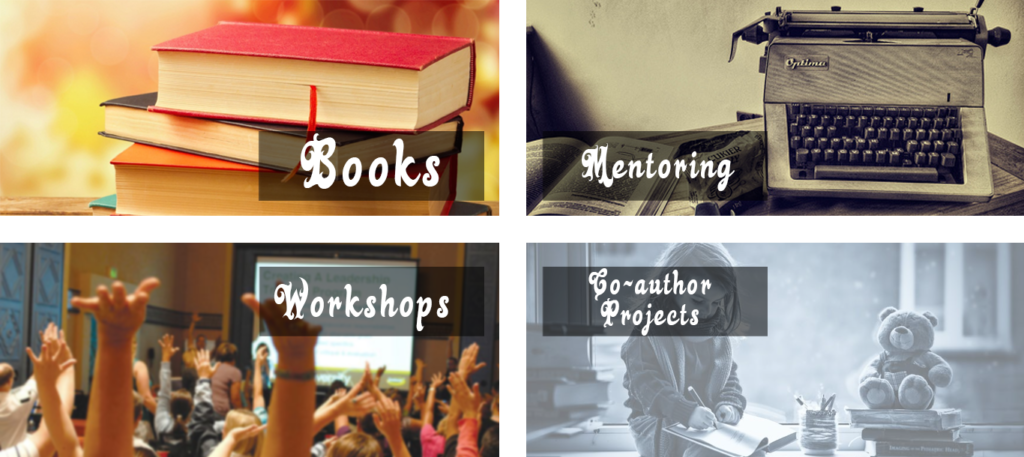 One of the prominent constituents of our publishing house is to collate striking submissions by many writers in an anthology to celebrate their works by publishing them as paperback and ebook editions. The Great Indian Anthology-1 gave a chance to poets whose works remain unnoticed otherwise. The opportunity was offered without any selection procedure but with a professional editing and literary encouragement provided from our end. To celebrate the success of its first edition, The Great Indian Anthology- Express Edition is in making to publish their tiny tales & haikus, and feature them on the social media platform. Bullet Tales was another enticing opening for writers to hone their skills to win cash money and grab a chance to getting published in the next anthology. As Half Baked Beans scouts creative talents, A Jar Of Letters is an astounding collection of letters written by different writers that are truly stirring and sentient.
Along with book publishing and marketing services, we offer authors to conjoin with our platform to get their books to read and reviewed by avid readers. We invite book reviewers to connect with us to grab free paperback and ebook editions of books that they wish to review. This programme has helped authors to boost their readership and supported readers to read a plethora of genres by letting out genuine reviews.
Half Baked Beans constantly manifests the scope of writing by extending newfangled writing opportunities to its audience. Its recent project is an online pitch fest- Pitch Your Book which is an incredible fighting chance for the writers who have manuscripts (or are working on one) but are not able to get it published or are unaware of how to approach publishers. It is a free publishing deal with freebies for all the participants and exciting prizes for selected winners. We catalogue Giveaways for our audience to keep them thrilled with books and nurture their abilities by staying hooked with our literary events.
When it comes to writing, all that is required to become a prosperous writer is to believe in your words and practice the craft. It calls for the discovery and further exploration in the realm of writing.
Half Baked Beans hopes to enliven this idea by supporting authors to promote their books and upcoming writers to furnish their art by participating in the literary events organised by our platform.